KitchenAid Washer/Dryer Combo Water Inlet Valve
Item # 868761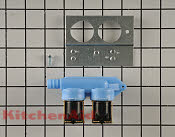 Washing machine water inlet valve kit with bracket. A long or slow fill cycle is often due to a restricted water valve. The valve should never be disassembled and cleaned, only replaced.
OEM Part - Manufacturer #285805
$47.52
Order by 3:00 PM ET and choose FedEx 2Day or FedEx Overnight shipping, this part ships TODAY!
Add to Cart