KitchenAid Washer/Dryer Combo Gas Valve Solenoid
Item # 3479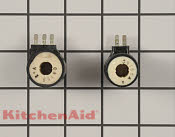 Dryer gas burner valve solenoid set. If the dryer does not heat or heats intermittently the coils could be defective. To test, watch the burner and if the igniter glows for a while and then shuts off without the gas igniting, it usually means one of these coils is bad.
OEM Part - Manufacturer #279834
$35.89
Order by 3:00 PM ET and choose FedEx 2Day or FedEx Overnight shipping, this part ships TODAY!
Add to Cart