KitchenAid Washer/Dryer Combo Sensor & Thermistor Parts
Item # 2681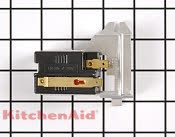 Gas dryer sensor for igniter and flame. The sensor is located across from the gas igniter at the dryer's burner assembly. This flame sensor should be closed for continuity at room temperature. Check for continuity with a multi-meter before replacing.
OEM Part - Manufacturer #WP338906
$59.49
Order by 3:00 PM ET and choose FedEx 2Day or FedEx Overnight shipping, this part ships TODAY!
Add to Cart