KitchenAid Washer/Dryer Combo Igniter Parts
Item # 3415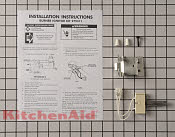 Dryer igniter kit. This igniter will replace both round and flat style igniters. The kit includes the bracket, wire nuts and mounting screw. Be aware the igniter is very fragile and should be handled carefully.
OEM Part - Manufacturer #279311
$56.88
Order by 3:00 PM ET and choose FedEx 2Day or FedEx Overnight shipping, this part ships TODAY!
Add to Cart