KitchenAid Dryer Drive Belt
Item # 529597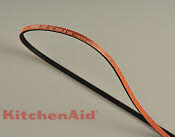 Dryer drum drive belt. The belt is flat, 92-1/4 inches long, 1/4 inch wide and has 4 ribs and 3 grooves. It replaces many other belts, including some with 5 ribs and 4 grooves. If the drum does not turn, but you can hear the motor running then there is a good chance the belt has broken.
OEM Part - Manufacturer #341241
Item # 4248258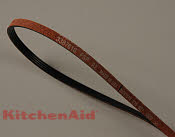 Dryer drum drive belt, 93 1/2 inches long, 4 ribs 3 grooves. The drive belt is a very long, slender belt that wraps all the way around the dryer drum, around a tension pulley, and then around the drive motor pulley. If the drum will not turn when the dryer is turned on the belt is likely broken.
OEM Part - Manufacturer #661570V