KitchenAid Dryer Model KEYS850GZ0 Fuse, Thermal Fuse & Breaker Parts
Item # 2651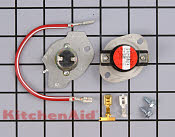 This part fits your Dryer
Dryer heating element thermal cut-off (thermal fuse) 309 degrees and high limit thermostat 250 degrees, with wiring kit. If the dryer does not heat the thermal cut off may have blown and a new high limit thermostat is needed.
OEM Part - Manufacturer #279816
Item # 2923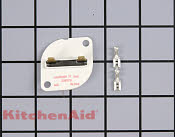 This part fits your Dryer
Dryer thermal fuse (or thermal limiter). This fuse is located on the exhaust duct. If the dryer overheats, the thermal fuse opens to cut off power to the dryer. The thermal fuse cannot be reset--if the thermal fuse is open, it must be replaced.
OEM Part - Manufacturer #WP3390719