KitchenAid Washer/Dryer Combo Drive Block or Bell
Item # 2858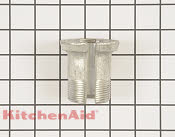 Washer drive block for inner tub. A worn drive block may cause the washer to spin slowly, causing the clothes to be soaked at the end of the cycle. The washer may also make a loud knocking noise at the beginning of the spin cycle.
OEM Part - Manufacturer #WP389140
$35.45
Order by 3:00 PM ET and choose FedEx 2Day or FedEx Overnight shipping, this part ships TODAY!
Add to Cart