KitchenAid Washer/Dryer Combo Suspension Spring
Item # 1549326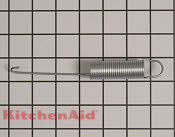 Washing machine tub counterbalance spring. This spring offsets the weight of the motor on the front of the washer. If broke, the tub will lean forward and the tub will be off balance during the spin cycle.
OEM Part - Manufacturer #WPW10250667
$12.65
Order by 3:00 PM ET and choose FedEx 2Day or FedEx Overnight shipping, this part ships TODAY!
Add to Cart