KitchenAid Washer/Dryer Combo Cycling Thermostat
Item # 2895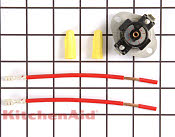 Adjustable dryer cycling thermostat kit L135-155. The cycling thermostat cycles the heat on and off to regulate the air temperature. If the cycling thermostat is defective, the dryer will not heat. To determine if the thermostat is defective, use a multimeter to test it for continuity.
OEM Part - Manufacturer #WP694674
$63.59
Order by 3:00 PM ET and choose FedEx 2Day or FedEx Overnight shipping, this part ships TODAY!
Add to Cart