KitchenAid Washer/Dryer Combo Drain Pump
Item # 3296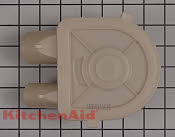 Washing machine drain pump. The pump mounts directly to the motor with two clips. If the washer does not drain then the pump could be locked up or a small object may be clogging it. A small leak in front of the washer could be caused by a defective pump.
OEM Part - Manufacturer #WP3363394
$55.47
Order by 3:00 PM ET and choose FedEx 2Day or FedEx Overnight shipping, this part ships TODAY!
Add to Cart